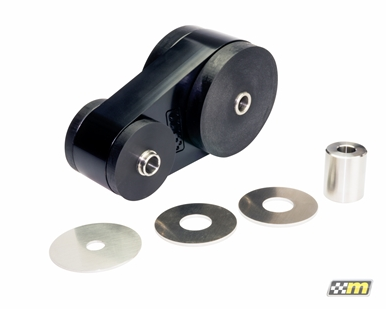 MOUNTUNE ROLL RESTRICTOR / REAR MOTOR MOUNT , FIESTA ST 2014-2019 *FREE SHIPPING*
The mountune roll-restrictor / RMM reduces the amount of engine roll/movement during hard acceleration and gear changing. With a product such as this, care must be taken with the design and choice of materials, as a poor design can destroy the feel and driving experience of the car. With an extensive background working in the OEM market, mountune have the knowledge and engineering expertise to create a product which can reduce the engine movement by the desired amount, but with minimal effect to the NVH (Noise Vibration Harshness) level.
The mountune roll restrictor is machined from high quality aluminum, and features black polyurethane front and large rear oval bushings engineered to control with horizontal plane NVH. The bonus of using polyurethane is that not only has it been engineered to give increased stiffness without causing excessive vibrations, it also doesn't deteriorate like rubber does, so the service life of the component is greatly increased. Check out the installation video below!
High quality anodised billet aluminum body
Black Polyurethane bushes
Reduction in engine movement
Minimal effect on NVH
---
---
More from this collection