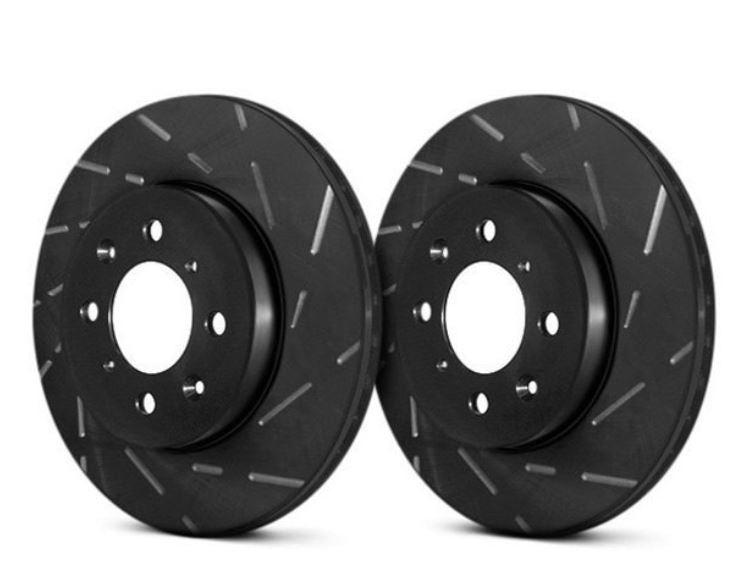 EBC Ford Fiesta ST 2014-2018 USR Slotted Front Rotors (pair) *FREE SHIPPING*
Features
EBC Ultimax Slotted Rotors deliver stellar braking without earth-shattering noise
Custom-fit rotor directly replaces your stock discs to work with factory components
Built for high-performance driving
Stays quiet and cool under tough conditions
Progressive slotting ensures even pad wear and long-lasting performance
Precisely-cut slots vent moisture, gasses and heat to prevent brake fade
Structural design ensures less cracking
Manufactured from finest copper-inclusive gray iron
Sold in pairs for your vehicle's front and rear
Your EBC Ultimax Slotted Rotors come with a 12-month/10,000-mile warranty
Description
Any time you hit the pavement, a set of reliable brakes are essential for high-performance driving. For cooler rotors that sport slotted stealth, look no further than EBC Ultimax Slotted Rotors. Constructed from high-quality gray iron, these slotted rotors significantly improve your vehicle's brake performance, no matter how many sudden stops you make. You can depend on EBC Ultimax rotors to deliver world-class braking performance without all the high-pitched screeching that often ensues with stock rotors.

EBC Ultimax Blackdash Slotted Vented Rotors provide a way for gasses to easily escape, thanks to their precision-cut slots. They also eliminate moisture and debris, which could eventually result in brake fade. The design also ensures a high-performance, ultra-quiet rotor, so you don't think twice about squealing brakes.

Invest in EBC USR rotors to achieve even pad wear and consistent braking every time. Best of all, these EBC Slotted Rotors are backed by a 12-month/10,000-mile warranty.
---
---
More from this collection