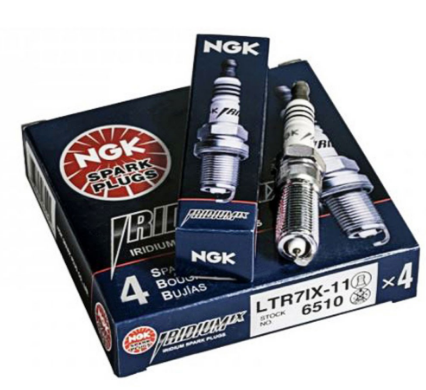 NGK Iridium IX Spark Plugs 6510 1 step colder **Custom PRE-GAPPED** (set of 4)
This listing is for a SET of 4 NGK LTR7IX-11 (6510) Spark plugs for all Ecoboost vehicles. These are pre-gapped and ready to install for your vehicle. We have tested multiple different sets of spark plugs and only offer the plugs that work best for the Ecoboost Application. 
Yes, we recommend running these plugs even on stock vehicles. The plugs do not require a tune to see benefits. Also when installing don't drop the plug into the cylinder, lower it down with a magnet, or spark plug socket! 

TORQUE TO 10FT/LBS!
NO DIELECTRIC GREASE
NO ANTI-SEIZE!
High Performance. Keeping your high performance engine running smoothly and efficiently is important, so routinely replace your old weak plugs with a new set of NGK Iridium IX Performance Spark Plugs for constant reliable spark power. The Iridium IX plugs from NGK will provide improved throttle response, fuel efficiency, lower emissions, and will reduce fouling.
Superior Materials. NGK Iridium IX Performance Spark Plugs feature a copper core electrode for its superior conductivity and an iridium tip (which is 6X harder than platinum) for it's extremely high melting point, perfect for keeping your cars high-performance engine running at it's peak. And as an added bonus the Iridium IX plug features Trivalent Metal Plating for it's superior anti-corrosion and anti-seizing properties.


---
---
More from this collection