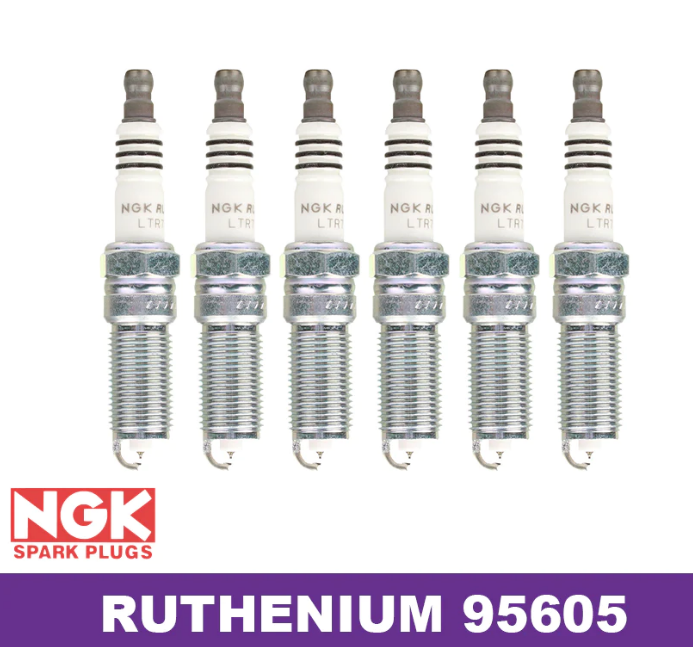 NGK Ruthenium HX Spark Plugs 1 step colder *PRE-GAPPED* 2020+ Explorer ST
OUT of STOCK !
This listing is for a SET of 6 NGK 95605 Ruthenium HX Spark plugs for the 2020+ Explorer ST. These are pre-gapped and ready to install for your vehicle. We have tested multiple different sets of spark plugs and only offer the plugs that work best for the Ecoboost platform. 
Yes, we recommend running these plugs on stock to heavily modified ST's
The plugs do not require a tune to see benefits. Also when installing do NOT drop the plug into the cylinder, lower it down with a magnet, or spark plug socket! 

TORQUE TO 10FT/LBS!
NO DIELECTRIC GREASE
NO ANTI-SEIZE!
NGK Spark Plugs is introducing the latest technology in high ignitability spark plugs to the automotive aftermarket: NGK Ruthenium HX™ .
Ruthenium HX™ spark plugs. The ultimate high ignitability spark plugs from NGK.
Modern engines demand spark plugs that provide top performance while enduring the most severe conditions. NGK Ruthenium technology provides maximum durability and performance in newer engines where greater ignition efficiency is demanded. Modern engine designs utilize advanced technologies to create more power with less fuel. This results in greater heat and pressure in the combustion chamber, which shortens the life the spark plug. In response, NGK created Ruthenium HX™, a high ignitability spark plug with outstanding service life. We currently recommend these for the EcoBoost Mustang/GT/V6 platform.


---
---
More from this collection