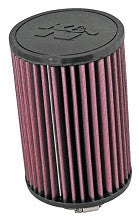 K&N drop in filter for the OEM air box
Want to improve the performance of your stock airbox 08+ Caliber SRT-4?
This is a direct replacement air filter that will fit in your stock airbox, and will flow far better than the stock rubber/foam air filter. Estimated power gain over the rubber/foam filter is 5-6hp.
Comes with clamp, install takes just 5 minutes with simple hand tools
---